Plymouth Centre has everything that you could need to live your normal life; you have the city mall, streets full of shops, restaurants and fun activities to do. Also, only 10 minutes away you can find the Hoe and the Barbican, both of these places are next to the sea.

Laura, Spain
Introducing Laura
Two years ago, along my A levels, I started researching about what degrees I could study and what was the best opportunity that I could find. This is how, luckily, I found a local agency (OK Estudiante) and with it, the best degree that fits me, Robotics Engineering with UPIC (University of Plymouth). There is a lot of Universities around the UK but having the opportunity of living in a safe city, full of students and a place next to the sea where you can walk everywhere caught my attention.
So once I knew what my plan of future was and what was my study goal, I talked with Ok Estudiante and they helped me with all these documents that you need to fill or even help me with my English, correcting it. I doubt that I could have this opportunity without someone like them guiding me. So after everything was done and my student loan came, I decided moving to this British City near the sea, I remember I was scared, I didn't know what to expect. But after spending a day, or less, in Plymouth, I started feeling like this was my new home, full of new people and places to explore.
Starting at UPIC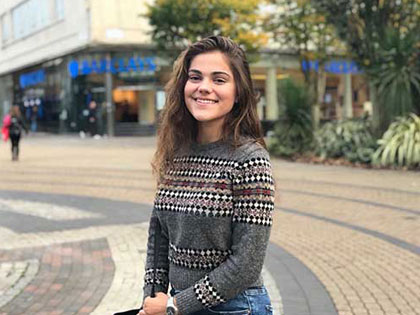 The thing that impacted me the most was my first day in the enrolment week in UPIC. I came into the building, nervous and excited at the same time, ready to talk with them about my enrolment. I was used to teachers and employees of high schools to be rude or not worry about you at all, so I got pretty surprised when they were treating me this nicely and helping me this much with everything. If I couldn't understand something they were helping me, making me feel really comfortable. But that's not all, along my first year; I went several times to talk with them about whatever made me feel uncomfortable, lost or even to let them tell me what other activities could be done in the city, and with whatever I struggle with, they helped me. To be able to have the experience of meeting people like this is the best thing that could happen to me.
The Lifestyle in Plymouth
Plymouth is a city where taking a car, an underground or even a train is not necessary, with walking you can go everywhere. But I don't want to make you think that it is because it's a small city, Plymouth is one of the biggest British Cities, with around 79.83km2. So how could this be actually possible? Plymouth Centre has everything that you could need to live your normal life; you have the city mall, streets full of shops, restaurants and fun activities to do. Also, only 10 minutes away you can find the Hoe and the Barbican, both of these places are next to the sea, the first one it's a green area where you can sit down with your friends and the second one it the maritime port where buying fish and chips is the best thing to do. But if I need to rate what is the best thing about my university life experience in Plymouth is that the main campus is only 5 minutes away of my house, so I don't need to travel long distances before and after study.
"Plymouth is a city where taking a car, an underground or even a train is not necessary, with walking you can go everywhere."
Settling in and Meeting New Friends
But let´s go back to my first week in UPIC. The first weeks in Uni are about meeting people and the campus, so what could be better than joining all these activities that they prepare for you? Like sports clubs fair, societies fair, the SU food market or all those tours around the University and the city. Also, they prepare more indoor activities with your future classmates so when you start your degree you already know your classmates and some of your lecturers. I tried to do whatever they offered me to do, and doing this I met all the amazing friends that I have right now. It could sound a little bit like an American Movie, but I must say that it is actually true; Sports clubs having big tournaments with their own cheerleaders supporting them or Societies where you can practice your hobbies (photography, science, movies lovers…). Also, every semester UPIC organizes trips to other cities like Bath, and they are really enjoyable.
So after all my experience here, coming back to Spain is more about relax myself travelling that actually going home because here I have a small family full of good people, adventures and a degree that really makes me happy (Lab sessions, the possibility of creating robots by myself …).
Final Words
If I could describe UPIC with three words, I would use friendship, adventure and knowledge. This was the best choice in my life.