Overview
Ready to jump straight into the first year of your education degree?
We're here to help you settle into your new home. You will benefit from extra support with study skills, and you will learn how to adapt to the UK educational system.
You can choose between two degrees at University of Plymouth. The BA (Hons) Education degree is designed to boost your communication skills and expand your knowledge of various sectors within the education industry. The BA (Hons) Early Childhood Studies degree will provide you with the skills to work with children effectively, helping to nurture their development.
Teaching will take place at the college during your first year, and at the university during your second year.
Page section
Location: UPIC at the University of Plymouth
Intake: September
 Modules for Early Childhood Studies
An Introduction to Early Childhood Studies
A series of lectures given by members of the Early Childhood Studies team, focusing on their own research, interests and enthusiasms, plus weekly seminars. The diversity of interests and approaches introduced in lectures will be balanced by process of developing study skills and integrating themes and ideas with active engagement in small seminar groups.
Understanding Development; Biology and Psychology
Politics for Equality
Places and Spaces for Learning and Playing
Children in Society
Multi Professional Perspectives
Modules for Education
An Introduction to Critical Questions
An Introduction to Perspectives on Disability and Inclusive Education
Introduction to Global Education
Equality and Justice in Education
Debating Values in Education
Praxis for change
UPIC module
Interactive Learning Skills and Communication (ILSC)
Librarian
Ofsted Inspector
Teacher
Tutor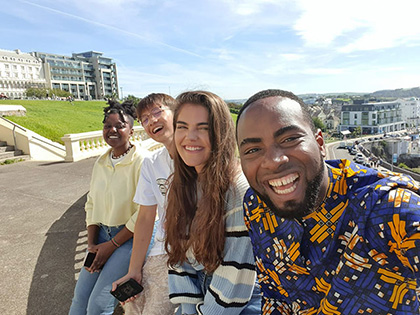 Why we chose UPIC
Hear from our students about what helped them choose Plymouth, and what is so special about their experiences as a student at UPIC.