Overview
Do you have what it takes to become a future business leader?
Fast-track your way to industry success with our Business & Management course. This course is designed to help you progress to a professionally accredited degree that will help you make your mark in the commercial world.
As a University of Plymouth student, you will have the option to specialise in accounting and finance, economics, management, or marketing.
Page section
Location: UPIC at the University of Plymouth
Intake: September, January and May
Semester 1
ILS1AND3 – Interactive Learning Skills and Communication: You will develop your academic communication skills and use of digital technology for higher education.
BUS107 – Principles of ICT
BUS108 – Business Law
SCI101MB – Numerical Techniques 1
Semester 2
BUS101 – Accounting
BUS103 – Economics
BUS105 – Business Studies
BUS106 – Academic Writing
Financial Officer
Marketing Manager
Management Consultant
Operations Manager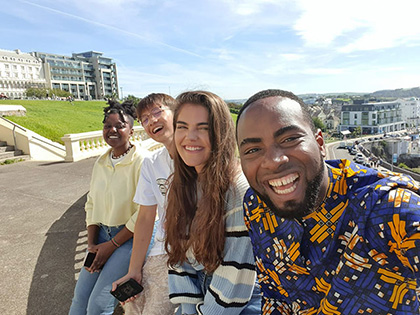 Why we chose UPIC
Hear from our students about what helped them choose Plymouth, and what is so special about their experiences as a student at UPIC.