When you come, you get the best possible help and support, you have everything from experienced lecturers and expert Nurses guiding you.

Victor, Nigeria
Introducing Victor
When did you first decide you wanted to study Nursing?
Looking after people has always been my passion. I've always wanted to make a difference in people's lives and be proud of what I am doing.
What made you choose the UK?
My sister had an influence on my decision, but I also wanted to gain more experience abroad and UK was my first choice because the education system appears to be the best especially for healthcare sciences.
What made you choose Plymouth?
Plymouth happened to tick all my boxes when it comes to choosing a city. I enjoy living in a quiet and peaceful area and moreover around the sea side of the country. In addition, Plymouth is arguably one of the best universities in the UK and Europe.
What was it like when you first arrived in the UK?
I believe there is always an excitement when you visit a new place so mine was not an exception. I was happy because I knew I was coming to learn something that I would use to make a positive impact on people.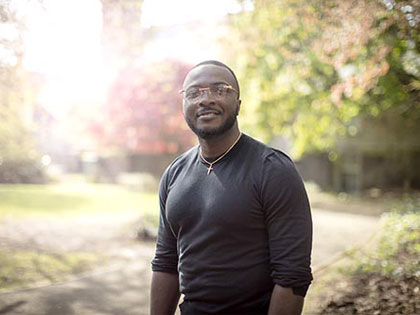 How did the International College help you settle in?
When I arrived, I met Tobi, a Nigerian-born member of staff in the Student Services team. He advised me on the life and education system here in UK and I was happy I took his advice which made me settle in the college. The Foundation prepares you for the university; you are kept on your toes with multiple assignments all at once. This means you have to learn how to prioritise your time efficiently.
What is your chosen Nursing specialism and why?
I chose Adult Nursing, also known as General Nursing. Taking care of older people give you a special and selfish feeling that you can't share with anyone. I enjoy listening to their stories and it feels like I am caring for my parents or grandparents. When I do these things and see the smiles on their face, I go home at the end of the day and feel very satisfied.
How is the course going now?
For Adult Nursing, you have to complete 3000 theory hours and 3000 hours of practical as part of the NMC requirements. When you come into your First Year, you start off with a few months of theory before beginning your first placement. My first placement was in a hospital; I had a mentor and plenty of guidance.
If you had to pick three words to describe your experience so far, what would they be and why?
AMAZING – It has been an amazing experience, everything I expected to receive I am getting. I am getting the best help and support I need.
CHALLENGING – When I say challenging, I mean this in a positive way. I have to work to pay my tuition fees, so sometimes I have to wake up early and do so many things, but it's very rewarding. It's all about time management.
SUCCESSFUL – I would say that I am doing well academically. I am putting everything that I have learnt into practice.
What do you plan to do after your degree?
When I finish my course, I plan on being an effective Nurse who will be able to a make a positive difference on nursing. I think I will stay in the UK for a little while, but eventually I have a long-term plan to return home and establish a hospital.
If you had one piece of advice to give international students thinking of studying Nursing in the UK, what would it be and why?
When people hear about Nursing, or anything medical, they always have this perception that it is very difficult. My advice is, if I can do it, I believe everyone can do it. If you are scared that it is going to be challenging academically then don't worry. When you come, you get the best possible help and support, you have everything from experienced lecturers and expert Nurses guiding you.
Opinion on lack of male Nurses
When it comes to Nursing, it is very stereotypical. Many people assume that it is a woman's job. I believe that, with time, we'll have more male Nurses in the UK and the world. I was listening to the news a few weeks ago and the amount of males studying nurses is significantly on the rise; it's a growing trend.