Overview
Ready to jump straight into the first year of your Oceanography, Ocean Exploration or Ocean Science degree?
We're here to help you settle into your new home. You will benefit from extra support with study skills, and you will learn how to adapt to the UK educational system.
You will learn how to collect and analyse data from the marine environment. The next step is to evaluate this data to better understand the complex ecosystems in our oceans.
University of Plymouth students has been Top 5 globally for Marine Teaching and Research. * Living in a coastal city, you will have the unique opportunity to gain practical skills with our fully equipped fleet of boats, a £4.65 million Marine Station used as a base for fieldwork afloat, and industry standard oceanographic and surveying equipment.
Teaching will take place at the college during your first year, and at the university during your second year.
 *Times Higher Education Impact Rankings 2022
Page section
Location: UPIC at the University of Plymouth
Intake: September
University Modules
Introduction to Ocean Science
Physical and Chemical Processes of the Ocean
Measuring the Marine Environment
Mapping the Marine Environment
Exploration and Geomorphology of the Oceans
Introduction to Biodiversity and Marine Ecosystems
UPIC Module
Interactive Learning Skills and Communication (ILSC)
Environmental Planning
Marine Engineer
Maritime Consultant
Researcher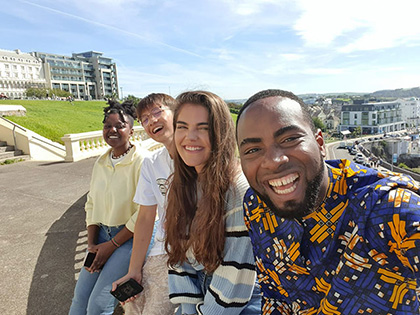 Why we chose UPIC
Hear from our students about what helped them choose Plymouth, and what is so special about their experiences as a student at UPIC.