Overview
Prepare for a high-flying career in engineering or robotics with a foundation programme that will help you reach your potential.
As a student at the University of Plymouth, you will have access to the largest number of humanoid robots available to undergraduate students in Europe!
Once you successfully complete our Foundation programme, you will work in a world-class research environment with staff internationally renowned for cutting-edge research. An option to take a placement year is also available to help you further develop your skills.
Page section
Location: UPIC at the University of Plymouth
Intake: September and January
Semester 1
ILS1AND3 – Interactive Learning Skills and Communication: You will develop your academic communication skills and use of digital technology for higher education.
BUS107 – Principles of ICT
SCI101 – Numerical Techniques 1
SCI115 – Physics 1
Semester 2
SCI103 – Numerical Techniques 3
SCI116 – Physics 2
SCI130 – Research and Referencing
SCI131 – Programming Techniques
Design Engineer
Electromechanical Technician
Operations Technician
Robotics Engineer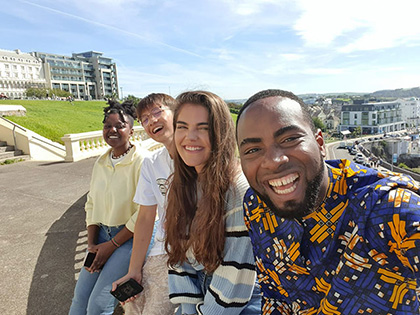 Why we chose UPIC
Hear from our students about what helped them choose Plymouth, and what is so special about their experiences as a student at UPIC.