Overview
*Places available from September 2024
Ready to make your mark in the legal world? Set your sights high with our Law studies programme.
The University of Plymouth Law School has strong public and private sector connections, and you can decide whether you want to qualify for the legal profession (LLB) or the BSc. With a strong focus on developing skills in the workplace, you will learn the fundamentals of law to prepare you for a successful career.
If you choose to specialise in Criminology and Criminal Justice, you will examine how and why people commit crimes and how we, as a society, deal with criminality.
Intakes
Places available from September 2024
Page section
Location: UPIC at the University of Plymouth
Intake: September and January
LAWAW – Academic Writing for Law: You will learn about how to write for Law in a way which is clear and concise, formal, research based and objective and employs the appropriate use of quotations, paraphrasing and citation.
BUS108 – Business Law
BUS105 – Business Studies
LAW103 – Constitutional Law
LAW101 – Contract Law
ILS1AND3 – Interactive Learning Skills and Communication
LAW100 – Legal Skills and the English Legal System
BUS107 – Principles of ICT
Barrister
Judge
Lawyer
Paralegal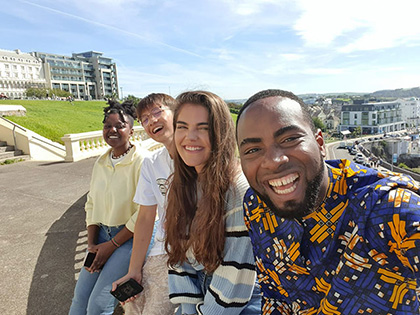 Why we chose UPIC
Hear from our students about what helped them choose Plymouth, and what is so special about their experiences as a student at UPIC.