Overview
Have you considered how much of our modern existence relies on computer networks? Cyber security has become an international priority, meaning experts in this field are in high demand.
After completing your Foundation in Computer Science, you will progress to the University of Plymouth and gain practical skills in coding, algorithms, database and software development, cyber security, networks and social, legal and ethical aspects of IT.
You will also benefit from advanced, industry-standard facilities and British Computer Society (BCS) accreditation.
Page section
Location: UPIC at the University of Plymouth
Intake: September and January
Semester 1
ILS1AND3 – Interactive Learning Skills and Communication
SCI115 – Physics
BUS107 – Principles of ICT
SCI101SC – Numerical Techniques 1
Semester 2
SCI102 – Numerical Techniques 2
BUS105 – Business Studies: You will explore the fundamentals of business, including globalisation; ethics and sustainability; operations, marketing and HR; strategy, leadership and management.
SCI131 – Programming Techniques
SCI130 – Research and Referencing
Data Science
Computer System Analyst
Software Engineer
Web Developer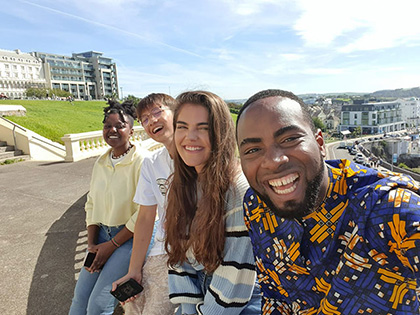 Why we chose UPIC
Hear from our students about what helped them choose Plymouth, and what is so special about their experiences as a student at UPIC.