Overview
Ready to jump straight into the first year of your maritime business degree?
We're here to help you settle into your new home. You will benefit from extra support with study skills, and you will learn how to adapt to the UK educational system.
Did you know that 90% of world trade is carried by Sea? As part of this degree, you will learn all about the commercial, economic and operational aspects of the maritime trade. University of Plymouth has an established history and strong links to the naval industry.
This course is accredited by the Institute of Chartered Shipbrokers and the Chartered Institute of Logistics and Transport. We have an exciting active alumni network through the Plymouth Nautical Degree Association (PYNDA), where you'll meet other students and graduates in the maritime field and make useful contacts.
Teaching will take place at the college during your first year, and at the university during your second year.
Page section
Location: UPIC at the University of Plymouth
Intake: January and September
 Standard modules – all pathways
Business Foundations: You will build on your knowledge and understanding of business concepts, strategies and models by looking at different types of organisation and a variety of sectors
Business Law
Interactive Learning Skills and Communication (ILSC)
Introduction to Marketing
Organisational Behaviour
Principles of ICT
Specialist Modules
Accounting
Introduction to Logistics
Introduction to Shipping
Marine Analyst
Maritime Consultant
Port Manager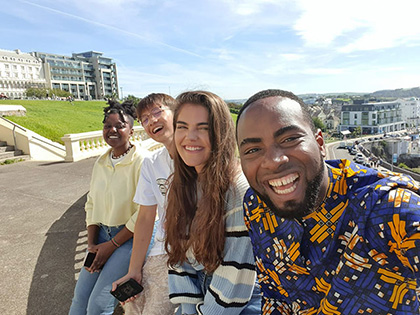 Why we chose UPIC
Hear from our students about what helped them choose Plymouth, and what is so special about their experiences as a student at UPIC.