Overview
Do you want to build a rewarding career, supporting the local community?
You can choose your area of expertise and then apply to study for our Foundation in Health & Human Sciences. This three-semester programme is designed to give you the study skills required to thrive as a student at the University of Plymouth.
Once you successfully complete our Health and human sciences programme, you will undergo practical training to gain valuable real-world experience and earn a professional accredited degree.
Page section
Location: UPIC at the University of Plymouth
Intake: September
Semester 1
ILS1AND3 – Interactive Learning Skills and Communication
BUS107 – Principles of ICT
ELC1 – Targeted English Language 1
Semester 2
SCI120 – Biology
SCI101SC – Numerical Techniques 1
SCI115 – Physics
SCI134 – Preparation for a career in healthcare
ELC2 – Targeted English Language 2
Semester 3
SCI125 – Chemistry
SCI102 – Numerical Techniques 2
SCI130 – Research and Referencing
ELC3 – Targeted English Language 3
Audiologist
Kinesiology
Pathologist
Social Work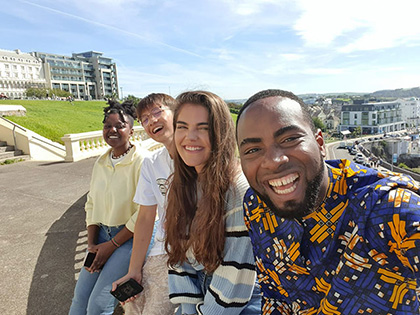 Why we chose UPIC
Hear from our students about what helped them choose Plymouth, and what is so special about their experiences as a student at UPIC.