Overview
Ready to jump straight into the first year of your environmental science degree?
We're here to help you settle into your new home. You will benefit from extra support with study skills, and you will learn how to adapt to the UK educational system.
You will learn to tackle environmental challenges across all types of terrain. The BSc (Hons) Environmental Science degree will give you the skills to identify and develop solutions to real-world ecological problems, such as: climate change, biodiversity loss, conservation, and sustainability.
Teaching will take place at the college during your first year, and at the university during your second year.
Page section
Location: UPIC at the University of Plymouth
Intake: September
Modules
Sustainability Science
Students are introduced to environmental systems and sustainability at a variety of scales. Training in the skills of environmental investigations is delivered through field and laboratory work. Personal and professional development are supported through tutorials and workshops focusing on transferable skills and professionalism.
Environmental Management and Protection
Environmental Pollution
The Biosphere
The Physical Environment
Global Environmental Changes
UPIC module
Interactive Learning Skills and Communication (ILSC)
Conservation Officer
Environmental Engineer
Landscape Architect
Wildlife Biologist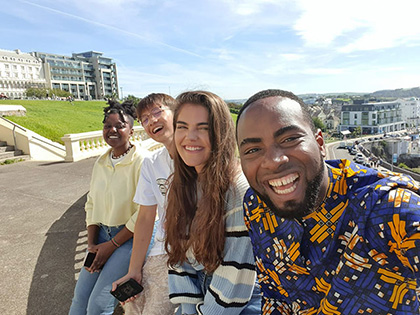 Why we chose UPIC
Hear from our students about what helped them choose Plymouth, and what is so special about their experiences as a student at UPIC.