Overview
Looking for a scientific career that could help revolutionise medicine and change lives?
Get ready to explore a wide range of specialisms, from animal behaviour and human biosciences to psychology once you've successfully completed our Biomedical Foundation programme.
The University of Plymouth champions experiential learning in the laboratory and in the field, with progression degrees including an optional placement year to help you gain valuable real-world experience.
Page section
Location: UPIC at the University of Plymouth
Intake: September and January
Semester 1
ILS1AND3 – Interactive Learning Skills and Communication
BUS107 – Principles of ICT
SCI101SC – Numerical Techniques 1
SCI115 – Physics
Semester 2
SCI102 – Numerical Techniques 2
SCI130 – Research and Referencing
SCI120 – Biology: You will learn about key biological theories, such as Darwin's theory of evolution, and cover topics including genetics, DNA, the immune system and photosynthesis.
SCI125 – Chemistry
Crime scene investigator
Genetic counsellor
Neuroscientist
Teaching laboratory technician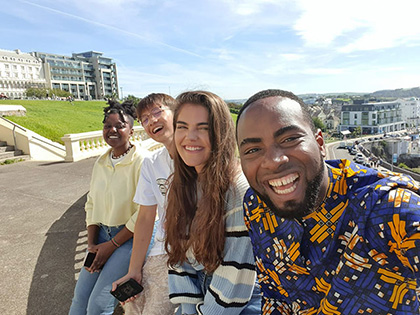 Why we chose UPIC
Hear from our students about what helped them choose Plymouth, and what is so special about their experiences as a student at UPIC.